G8 is everywhere ! So are we….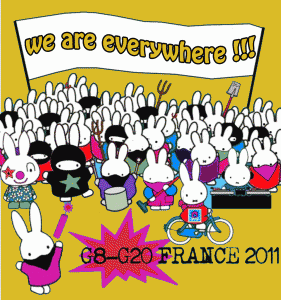 J-1 Decentralized Action days against G8 !
Some overview of the public announced actions, it's not complete, because we did for the moment only post those who are largely communicated.
Several more places have announced that there actions previewed, but they are not going to be publishing them beforehand, surprises….
Then there is the call from Spain out which is hooking up with the decentralized actions against< the G8, idem we will have to see what happens !
The action map has changed it's adresse, the correct one is this :
for the moment the card is editable by everyone, we'll try to keep it like this and hope it works :
http://goo.gl/0ULtk
To send us the information of your actions :
by mail : nog2011 (at) riseup.net >PGP key is here : http://nog2011.noblogs.org/?page_id=99
by phone : call us under : +33 760335628
you can follow us on twitter : https://twitter.com/#!/NoG2011France
If you want, you can use the action logo to put on your communication, there are here :
http://nog2011.noblogs.org/?p=471
All infos will be available here :
Action blog: http://nog8actions.noblogs.org/
Info blog: http://nog2011.noblogs.org/
26 May 2011
09:00 – Paris – Place de la rotonde (Métro Stalingrad)
24/24 – Hamburg – Direct action against capitalism & G8
14:00 – Bremen – G8 Camp @ Market Place
18:00 – Berlin –  Demo against capitalism & G8 @ Rosenthaler Platz
19:30 – Paris – Debate in the Festival of Resistance and Alternatives
(FRAP) "Issues and resistance against the G8" @ Petite Roquette (6 Rue Saint Maur, Paris 11e)
18:00 – Amsterdam – G8 Leaders Fool's Pride
19:00 – Strasbourg – Soup Kitchen: Sharing a moment having a free meal @ Impasse de chatelet
27 May 2011
24/24 – Berlin – Direct action against capitalism & G8
10:00-22:00 – Strasbourg – the small temporary autonomous camp @ Impasse de chatelet
17:00 – Kiel ( de ) – Dezentral gegen G8! Kundgebung @  Hbf
18:00 – Paris – Festive Resistant Parade against social control and G8 @ Metro Belleville
18:00 – Cologne – Anti-G8 Demonstration @ main trainstation
18:00 – Hamburg – Anti-G8 Demonstration @ Gänsemarkt
18:00 – Dijon – Festival Maloka contre le sommet du G8 @ Tanneries
28 May 2011
10:00-22:00 – Strasbourg – the small temporary autonomous camp @ Impasse de chatelet
13:00 – Nürnberg – Stop G8 Demo @ Plärrer
18:00 – Dijon – Festival Maloka contre le sommet du G8 @ Tanneries